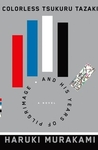 Colorless Tsukuru Tazaki and His Years of Pilgrimage by Haruki Murakami
My rating: 5 of 5 stars
As in IQ84, a single piece of music plays a repeating role throughout the book; this time it's Liszt's 'Le mal du pays' rather than Janáček's Sinfonietta. Listening to that short piano piece at a key moment late (page 322) in his pilgrimage, this paragraph appears:
"And in that moment, he was finally able to accept it all. In the deepest recesses of his soul, Tsukuru Tazaki understood. One heart is not connected to another through harmony alone. They are, instead, linked deeply through their wounds. Pain linked to pain, fragility to fragility. There is no silence without a cry of grief, no forgiveness without bloodshed, no acceptance without a passage through acute loss. That is what lies at the root of true harmony."
Once again, I was immediately hooked by the music behind Murakami's deceptively simple prose. I highly recommend Colorless Tsukuru Tazaki and His Years of Pilgrimage. I also want to say that (though I'm sure I would have also loved this book on an e-reader) the size, look, and feel of this physical Chip Kidd-designed hardcover added to the experience of following Tsukuru Tazaki on his journey. Everything from the railway maps to the significant colors used on the endsheets and the treatment of the page numbers contributed greatly to the pleasure of reading.